[vc_row][vc_column][vc_column_text]
Treating your stretch marks is always a very difficult task. When your stretch marks appear, they appear slightly raised and pinky-red in the beginning. They then increase in their length as well as acquire a dark purple color. Over time, they become flat and white. Abnormal collagen formation causes the appearance of your stretch marks, and all treatments are aimed at enhancing the collagen fibres in your skin. While stretch marks are not painful or harmful, they can make it difficult to feel confident about our body, especially when you're wearing bathing suit, or some other skin-baring styles. It is possible to minimize those frustrating stretch marks on your skin. It is possible to reduce your red stretch marks, and diminish white marks as well as improve their texture to make them look better. In some cases, this is done so great that you can't notice them very easily.
[/vc_column_text][/vc_column][/vc_row][vc_row full_width="" parallax="" parallax_image=""][vc_column width="1/1″][vc_column_text]
Laser Stretch Mark Removal
No matter what caused your stretch marks, removing them with laser implies advanced treatment which can help you get the smoother, clearer skin you desire.
It is a nonsurgical approach to improving your stretch marks with some well-tolerated treatments which require little or no downtime. A couple of easy and fast laser treatments might be all it takes to reveal more touchable and beautiful skin that you will be proud to show off.
Types of Laser Stretch Mark Removal Treatments
There are a few different types of laser treatments for your stretch marks, and the most common ones are fractional laser treatments and pulsed dye lasers. Here are the basics on several types of laser treatments.
Fractional Laser Treatment:
One of fractional laser's most exciting applications is for stretch marks (also known as striae). A recent pilot study of twenty patients showed noticeable improvement in the texture and appearance of white (mature) stretch marks after three treatments were done on moderate settings. Redness in those treated areas did persist a little longer on their body than in the face, but this fades in time.
The fractional laser functions by increasing the number of elastin fibres and collagen. Patients who have tried this type of laser treatment report and claim a greater than 50% improvement in the texture and appearance of their stretch marks. Among all the modern laser treatments, the fractional laser is one of the most advanced methods.
Laser Skin Tightening:
Using laser skin tightening is another emerging method for improving your stretch marks. Originally, this technology was designed to tighten your skin, but recent trials have indicated promising results in reducing the appearance of your stretch marks. A laser fibre passes under your skin in order to heat up your collagen fibres which induce the formation of new collagen. This helps your skin to contract. This laser energy can be observed as "kick-starting" a completely natural healing process which helps to stimulate healthy, fresh tissue, resulting in much smoother skin.
The Excimer Laser Treatment:
This laser treatment doesn't stimulate the production of collagen and elastin, but the production of melanin. Your stretch marks will darken their color thanks to the melanin, so they will match the skin's pigmentation surrounding them. In order to get the best results with this therapy, a few treatment sessions are necessary. Nevertheless, this treatment works better for stretch marks that are whitened, and for people who have lighter skin tones, since it only affects the pigmentation of the skin, not the texture.
The Pulsed Dye Laser Treatment:
Pulsed dye laser (PDL) treatments are procedures where short light pulses are utilized at a low wavelength, and they aim the dermis, the original layer of your skin, where your stretch marks form. These short light pulses stimulate the production of collagen and elastin which are necessary for keeping your skin flexible and elastic. Once this treatment is applied, it will take approximately two months for the results to appear.
The Cost of Laser Stretch Marks Treatments in USA
Many factors influence the cost of treatments for stretch mark removal. Costs depend on the extent and type of the treatment, the location and severity of your stretch marks, the individual plastic surgeon's or dermatologist's expertise, and the location of the certain practice. Laser stretch mark removal begins at around $350 per treatment.
Several treatments are usually required before the appearance of your stretch marks improves significantly. In general, patients pay for each laser treatment individually. In order to see good and pleasing results, you are likely to need about ten sessions or more, so your costs will probably run in the thousands of dollars.
Your health insurance isn't likely to be of any help, since this treatment is considered cosmetic, not medically necessary. Therefore, laser stretch mark removal treatments aren't cheap. Of course, if you are looking for laser stretch mark removal treatment by a big name plastic surgeon or dermatologist in New York City, it's going to cost you much more than it would at a dermatology office somewhere in Nebraska. Nevertheless, for many people, the excessive cost is well worthwhile, since users claim to have gained exceptional results from laser treatments for stretch mark removal.[/vc_column_text][/vc_column][/vc_row][vc_row full_width="" parallax="" parallax_image=""][vc_column width="1/1″][vc_column_text]
Home Remedies for Stretch Mark Removal
Fortunately, there are also a couple of natural ways that will help you reduce the appearance of your stretch marks. Some of the most common and effective stretch mark removal home remedies are:
Cocoa Butter:
Cocoa butter is very beneficial in treating your stretch marks. Since it is an excellent natural moisturizer, it will help reduce the appearance of your stretch marks and nourish your skin. You need to apply some cocoa butter over your affected area two times a day for a couple of months, at least.
Another option to use cocoa butter is to make a mixture using one tablespoon of wheat germ oil, half a cup of cocoa butter, two teaspoons of grated beeswax, as well as one teaspoon each of vitamin E oil and apricot kernel oil. You have to heat the mixture until the beeswax is melted. You can simply store this mixture in an airtight container in your refrigerator, and apply it to stretch marks two or three times a day. The mixture with cocoa butter will make your skin smooth and more hydrated.
Castor Oil: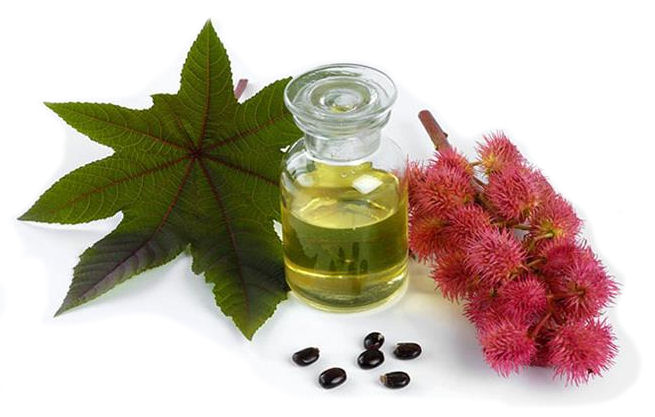 This oil is used in the treatment of several skin problems such as dark spots, wrinkles, moles, age spots, pimples and fine lines, but it can also be used to get rid of your stretch marks.
Lemon Juice:
This is another simple and easy way to lessen your stretch marks. Since it is naturally acidic, lemon juice helps reduce and heal your stretch marks, as well as some other scars like acne.
Sugar:
Natural white sugar has proved to be one of the best home remedies to get rid of your stretch marks. You can use it to exfoliate your skin.[/vc_column_text][/vc_column][/vc_row]